The Way Of The Wyrd
The Concept - A Tree of Life has been used in Science, Religion, Philosophy & Mythology 
A mystical concept alluding to the interconnectedness of all life on our planet and a metaphor for common descent in the evolutionary sense.
The Tree of Knowledge - connecting to Heaven and the Underworld & The Tree of Life, connecting all forms of creation, are both forms of The World Tree or The Cosmic Tree and are portrayed in various religions and philosophies as the same tree
Understanding the Tree of Life, one can understand the structure of the universe around us and within us - for it maps the macrocosm and the microcosm and everything in between
The Kabbalah is a symbol which expresses the structure of creation.
The Tree of Life, as one of the two primary trees in the Garden of Eden, is one of the roots of all human understanding.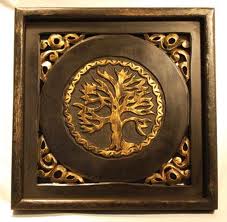 To understand the Tree of Life is to understand the basic formula of existence
The Tree of Life is the foundation of countless ancient cultures. It is Yggdrasil of the Nordics, the Tree of Life of the Aztecs and Mayans, and the Bodhi Tree of the Buddha.                                                                                                                  
The Kabbalah expresses the mathematics of all creation.
It is also intimately related with the ancient and sacred Tarot. The twenty two symbols of the Tarot contain the entirety of divine wisdom, and that wisdom is organized and explained in the Kabbalah.